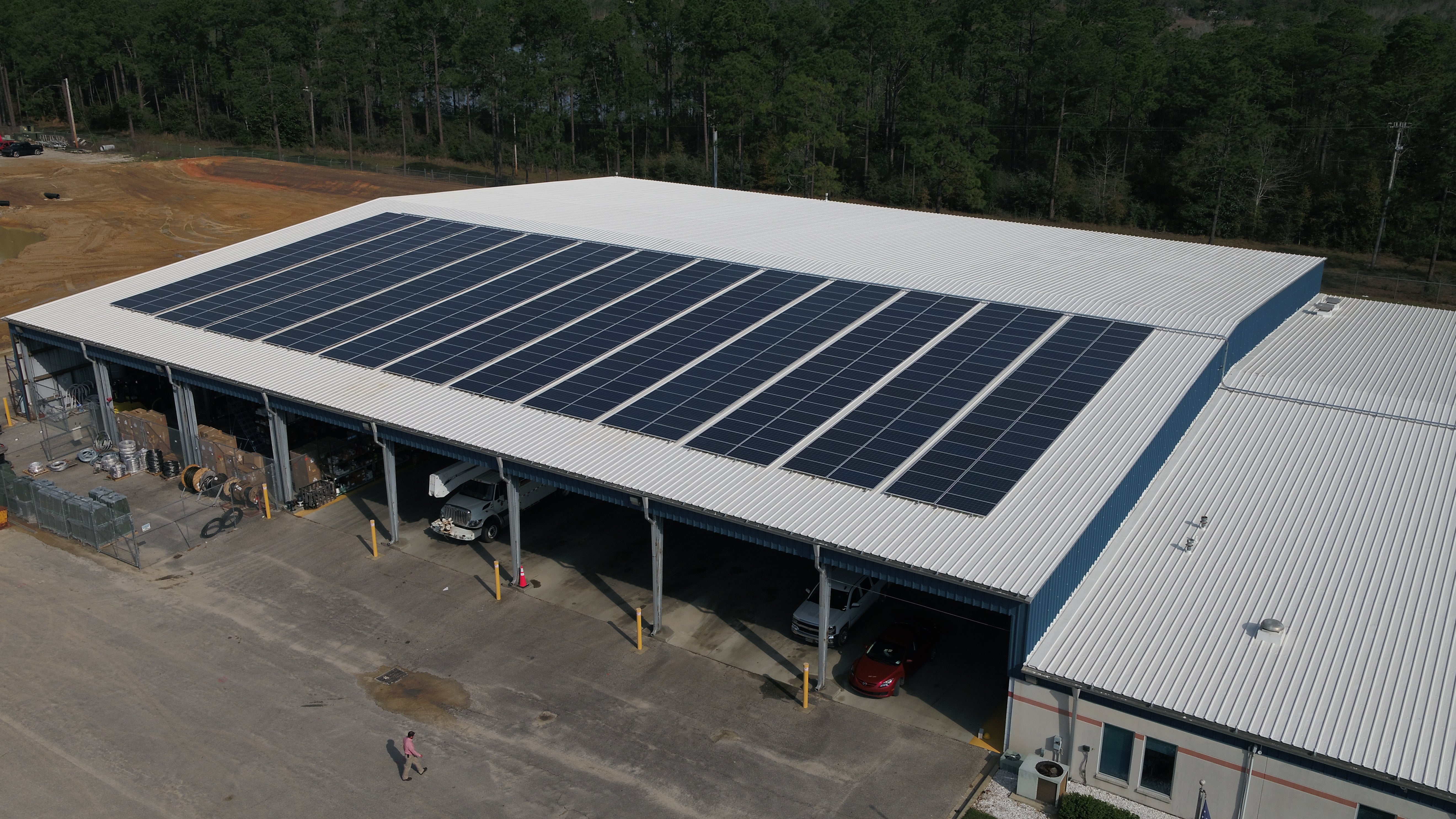 Cooperative Solar Production
Cooperative Solar subscribers can monitor the output from the solar array here: https://monitoringpublic.solaredge.com/solaredge-web/p/site/public?name=Chelco#/dashboard.
What is Cooperative Solar?
In 2019, CHELCO built a 504-panel, 127 KW solar array on the roof and lawn of our Operations Center. Those who subscribe purchase a share of the output from the array for a flat fee each month. The array is estimated to produce an average of 208 kWh per month annually for the first five years.
Why Cooperative Solar?
Cooperative Solar offers a solution for members who support renewable energy but do not want the hassle of ownership and costs. Not every rooftop can host solar panels, nor is every residence practical for an on-site installation. With Cooperative Solar, homeowners, renters and members who live in multi-family dwellings can participate. There are no up-front expenses for design, permitting, installation and insuring a solar system. Best of all, members do not have to worry about maintenance and the management of the PV system. Cooperative Solar is a hassle-free program that provides members with power from the sun. 
How does Cooperative Solar work?
The program allows voluntary participation in solar with no personal installation required. Cooperative Solar is offered by CHELCO, your trusted and reliable energy provider, with a competitive and affordable rate, and the subscription is portable. As long as subscribers remain in the CHELCO service area, their subscription can move with them. Cooperative Solar offers a renewable energy option that is good for the community and good for our future.
Rate Information:
Currently, the 90 available solar blocks of energy are fully subscribed, but residential members can be placed on a waiting list to subscribe to a block of solar electricity, which is estimated to average 208 kilowatt-hours (kWh) per month, for a fixed monthly fee. The actual months kWhs will vary depending upon the weather and season. The actual kWhs produced are purchased for the monthly fee below. CHELCO provides daily production data on its website.
Members may choose a one-year or five-year contract. The rates below will be fixed for the length of the contract.  
Monthly solar block charge:
Contract                       Monthly Fee
One year                      $27.50
Five years                    $26.00
Will Cooperative Solar reduce my monthly electric bill?
This program will not reduce subscribing members' monthly electric bill.
If you are interested in subscribing to our Cooperative Solar project and would like to be put on our waiting list, call us at (850) 892-2111.