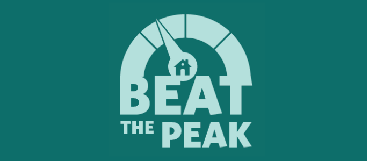 Beat the Peak - Do your part to help control wholesale energy costs and keep rates down!
What is Beat the Peak?
Beat the Peak is a free and voluntary program that helps control energy costs for all CHELCO members. When a potential peak demand for electricity has been predicted, members may receive phone calls or text alerts encouraging them to reduce electricity consumption during that short period of time.
Alerts are activated only when extreme weather conditions are predicted to cause unusually high energy usage by many people during the same time frame, such as unusually hot summer afternoons or extremely cold winter mornings.
Alerts are typically sent a week to a day prior to the expected peak demand.
Why should members participate?
Banding together and helping one another is the cooperative way. Our members collectively have the means to help control what CHELCO must pay for wholesale power, which affects rates for all members. 
The single largest expense CHELCO has is the price of energy we deliver to our members. When demand for electricity rises, the wholesale cost to buy it rises. When CHELCO purchases large amounts of energy during these peak periods when prices are highest, it can have a significant impact on rates. Through our Beat the Peak campaign, our goal is to keep the amount of power we have to buy as low as possible so the rates are controlled over the course of the year.
What does a Beat the Peak alert ask me to do?
During peak hours, members are encouraged to reduce or postpone power-intensive activities during a specific time, typically only a few hours long. We understand that you can't always postpone certain things, such as showers, but when possible during the peak demand time, members are asked to: 
Adjust your thermostat by 3 degrees

move it higher during summer peaks
move it lower during winter peaks

Delay hot water consumption (if you have an electric water heater)

delay showers until after the peak time
wait to run the dishwasher or washing machine 

Postpone using heavy appliances like your electric oven and dryer
Want to do more to reduce energy (and save money!) year-round or receive $75+ to participate in our water heater Switch to Save program?
Visit all of our Energy Efficiency pages located under the Energy Efficiency tab.
Visit our Switch to Save page for more information on CHELCO's water heater load control program.